Apparently the three armed robbers missed the "no weapons" sign. Otherwise, this whole thing could of been avoided.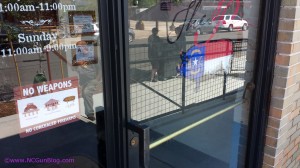 DURHAM, N.C. (WTVD) —
Police are searching for three suspects involved in an armed robbery at Durham's newly-opened barbecue restaurant, The Pit, at 321 W. Geer Street.
Authorities said just before 9 p.m. Sunday, three men wearing hoodies entered the restaurant through the back doors with pistols, and forced several staff members to lie on the floor.
The bandits assaulted two employees during the crime, but they were not seriously injured.
read more: http://abc11.com/news/durham-police-investigate-armed-robbery-at-restaurant/66643/
http://www.ncgunblog.com/2014/05/19/guns-allowed-means-easy-targets/